Hey Everyone! Sorry, I have been MIA, but I have been on vacation.
I think Dan and I were the only people who hadn't heard of Airbnb.  A friend told us about it and we went home and booked a vacation.
What is it?
Airbnb is an online community marketplace that connects people looking to rent their homes with people who are looking for accommodations. Airbnb users include hosts and travelers: hosts list and rent out their unused spaces, and travelers search for and book accommodations in 192 countries worldwide. A diminution of "air mattress B&B," Airbnb has grown from appealing to both couch-surfing budget-conscious tourists and to business travelers seeking a more memorable experience that allows for a different level of collaboration amongst colleagues.
 For more on companies that are shaking up their respective industries, check out How do ride sharing companies like Uber make money?
What is Airbnb?
According to Airbnb, They provide "a trusted community marketplace for people to list, discover, and book unique accommodations around the world …." Airbnb hosts list their properties – which can be single rooms, a suite of rooms, apartments, moored yachts, houseboats, entire houses or even a castle – on the Airbnb website. It's free to create a listing, and hosts decide how much to charge per night, per week or per month. Each listing allows hosts to promote properties through titles, descriptions, photographs with captions and a user profile where potential guests can get to know a bit about the hosts.
Travelers (or "guests") search the available database of properties by entering details about when and where they'd like to travel. Travelers can further refine searches by making selections for:
Room type – entire place, private room or shared room
Price – range from minimum to maximum
Size – number of bedrooms, bathrooms and/or beds
Amenities – wireless Internet, TV, kitchen, pool, pets, etc.
Property type – standard properties such as apartments, houses and bed & breakfasts, as well as non-standard accommodations such as castles, caves, igloos and tipis
Host language – English, Spanish, French, etc., including sign language
Keywords – if the traveler is looking for something specific, such as "oceanfront"
So, Dan booked us a little cabin in Tamworth, NH for 3 nights through Airbnb.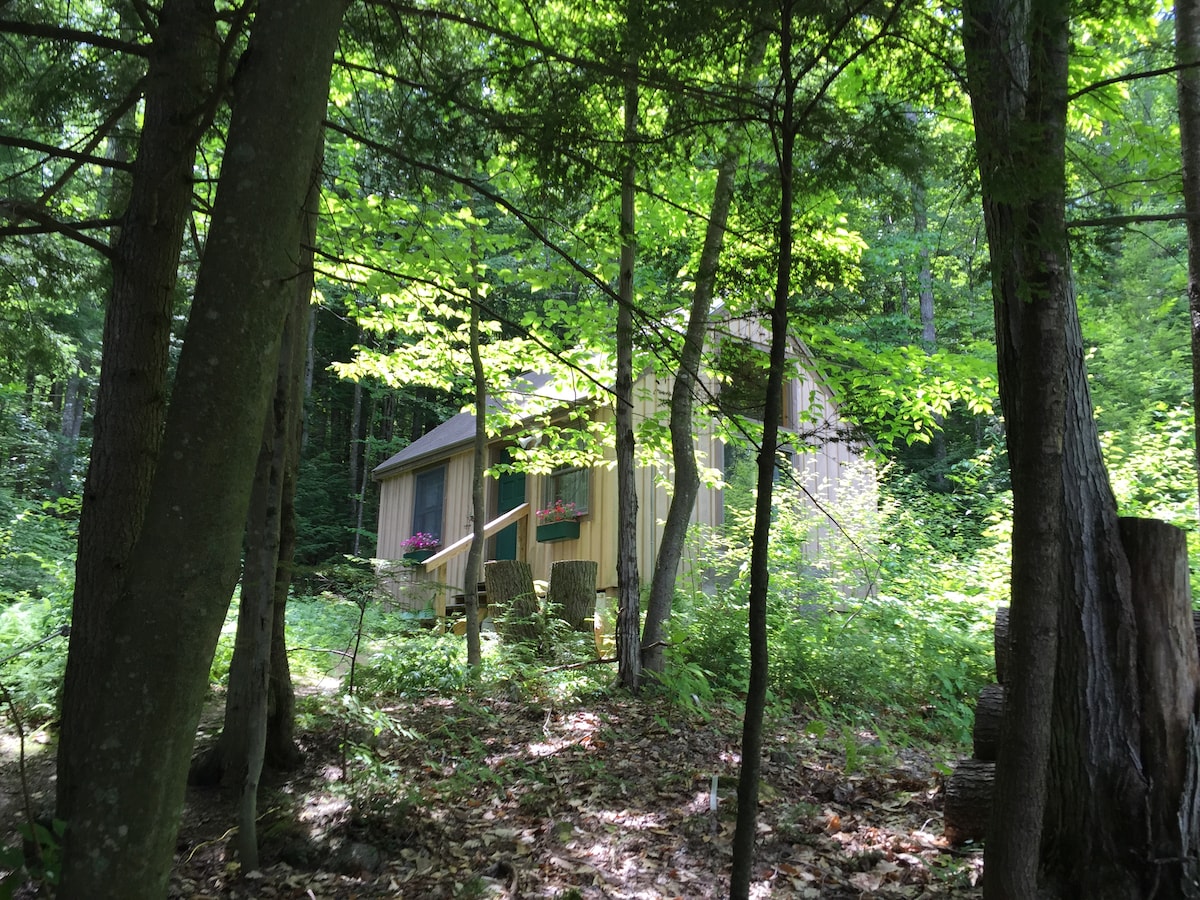 We saw pictures of the cabin, read reviews about the hosts and other people's experience staying there.
"Very nice simple cabin, close to the White Mountains, but away from the crowds. Great hikes and lovely lake for a swim nearby. Cindy and Rob are friendly, warm and extremely helpful hosts. The cabin is compact and sleeps a couple in the bedroom. A teenager will like the hide in on the loft. (Ours loved the place! )"
"Cindy and Rob are so incredibly welcoming and friendly. The cabin is fantastic- very comfortable and super cute. (I don't think the pictures show quite how adorable it really is.) We were in town for a wedding so didn't have much time to explore the nearby woods, but it looked like hiking would be quite enjoyable in the mountains here. I recommend this cabin to anyone looking for a relaxing vacation or just in need of a place in this area to sleep."
We crossed our fingers and booked it, Dano!  Bad joke, sorry!
Our experience with Airbnb was a great one. I have read other people have had some bad experiences, but this blog is simply telling you about ours.
The owner greeted us as we arrived and they could not have been kinder. We had Molly with us, which they were totally receptive to and made us all feel like their home was our home.
The cabin was up a small path in back of Cindy and Rob's own home.  It was adorable and just as described. It was small, but immaculate! It had a small bedroom, a loft that had one bed that you accessed by a ladder and a pull out couch.
The bathroom was small but was fully equipped with all the essentials. Cindy even had a basket with items you may have forgotten. I was super excited to see hair ties! Thank you!!!
The doors to the bedroom and bathroom had pull across accordion doors, but you were fully concealed and in a cabin that small you had better be friendly with who you were there with anyway.
The cabin had a full size fridge, coffee pot, microwave and a 2 burner hot plate. No stove, but they have a grill on their deck that guests are encouraged to use so who needed a stove?
There was a small sitting area and a big kitchen table with a TV in the corner. The TV was a little hard to view but we didn't even turn it on so honestly, I didn't care.
The views were magnificent from the large window in the sitting area. It was so nice to sit in the morning sipping your coffee and looking at the mountain.
Pure peace!
Cindy and Rob were awesome. They were around if you needed them but never in your space! We had a mishap with Molly (our fault) and they were so kind and understanding about it. We had  thunder storm roll in while Dan and I were out to dinner. We never heard the storm and had no idea there even was one. Poor Molls was terrified and chewed the door frame ( 2 x4) around the door trying to get out! She usually sleeps through storms so this completely shocked and horrified us.
Cindy sent us an e-mail after we left saying it wasn't a big deal and not to worry. Gosh, how nice is that?
The cabin was cozy, homey and just perfect. We did have a guest one night and the loft worked out perfectly fine.
We did use the grill on their deck to grill some ribs.  Rob came out to say hello and Toby (their dog) hung with Molly.  It didn't feel awkward at all to be on their deck in their space.
All in all our Airbnb experience was a positive one and we would definitely use it again.
Our hosts couldn't have been kinder (and understanding), the cabin was clean and exactly as described and the woods and mountains were peaceful and beautiful.
Booking and paying through the web-site was simple and very clear cut.
A+ for our first, but not last, Airbnb experience.
Question: have you used Airbnb? Did you like it?